Chanting Circle Training with Kevin James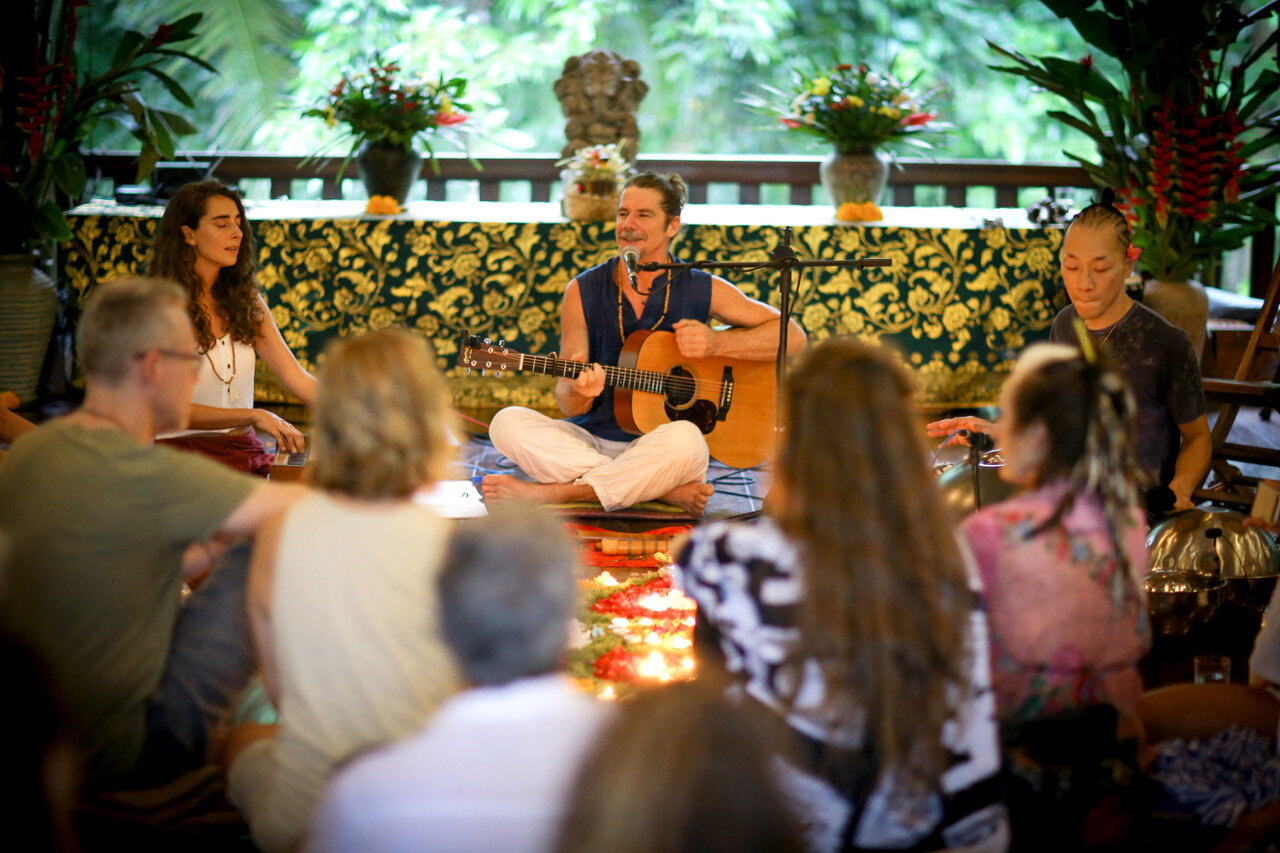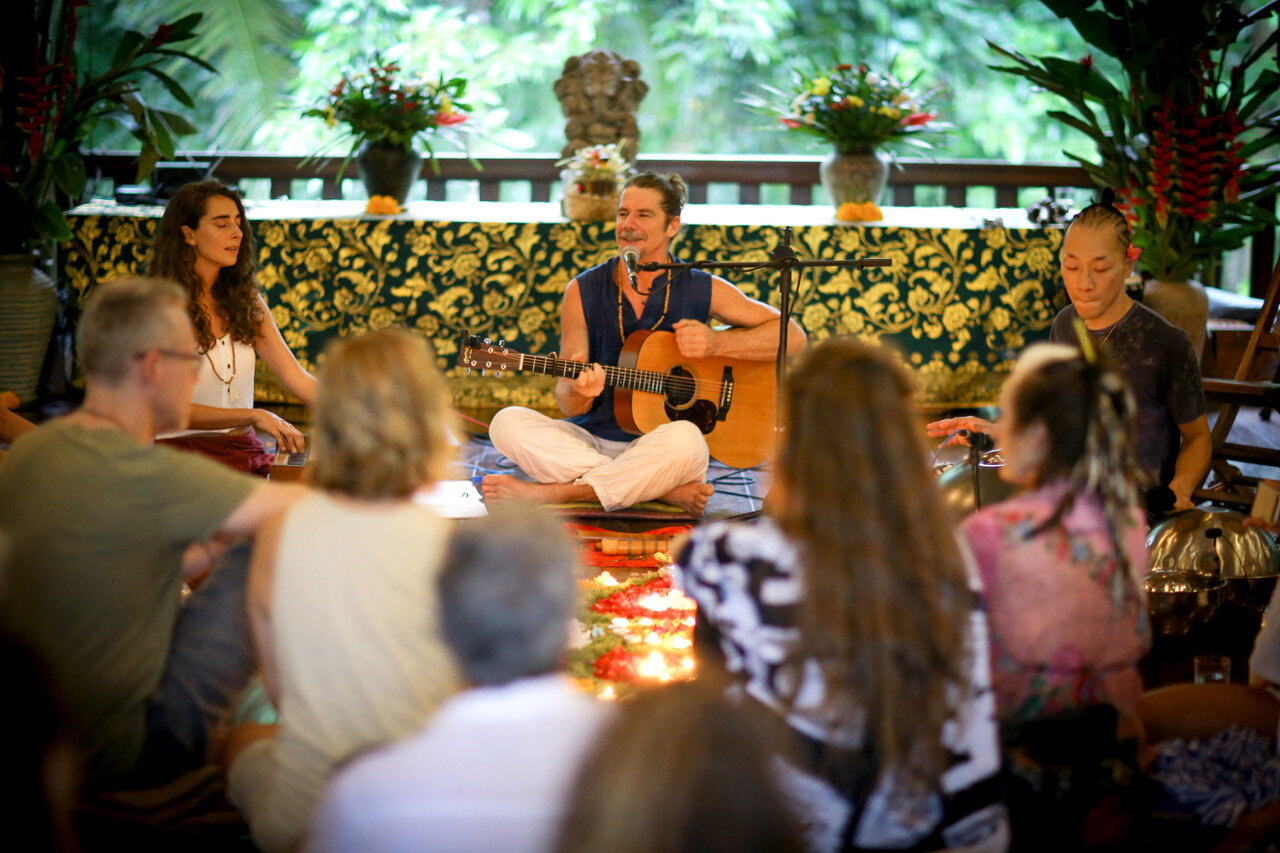 Chanting Circle Training with Kevin James
2020 | April 8 - 12 | 10am - 6pm
CHANTING CIRCLE TRAINING WITH KEVIN JAMES
Deepen your ability to facilitate, hold space and lead Kirtan and Mantra Chanting circles with Kevin James. Learn how to lead your own Chanting Circles for intermediate to advanced participants.
PLEASE NOTE: BEFORE you book this training, please fill out the following application form, you can then continue through to payment.
Chanting Circle Training with Kevin James - Application Form
"My intention is to share the deeper meaning of what it is to hold space for these kinds of circles in community in service and to hold intention with your sharing. I will give you the tools based from real, on-the-ground experience to support your offering. Whether it is for a practice with your friends, professionally as a Bhakti singer, yoga teacher or workshop leader, all would benefit from this effective and powerful tool of connection."
- Kevin James -
Preparation of yourself and the space for a circle

Holding space in a chanting circle - group connection

Chanting circle dynamics, rhythm and working with the energy of the room - what works and what doesn't

Learn to play some of my more popular songs on guitar or Harmonium

Song writing and composition for circles - I can help you write your own song

Tips and techniques for recording your own music

How we made a sustainable business following the heart and keeping the vision - touring secrets

Chanting - Yes, we will chant every day and we will also support each other to lead the group

Singing with emotion to connect to the heart and harmonise energy

Taking care of your voice

Q&A

Kevin will share his personal practices that:

improve your tone

pitch and open your voice

connect you with your true natural voice.

This is a 5-days, 30-hour course.
TRAINING SCHEDULE
2020 | April 8 - 12 | 10am - 1pm & 3pm - 6pm daily
NOURISHING MEAL PACKAGES FROM THE RA CAFÉ
Having a meal package as you train is an easy way to nourish yourself with our home-style, comforting, vegan and vegetarian foodand great to save time and energy. With your meals ready to greet you on our break, it's a nice addition to focus on resting and rejuvenating, to go back into your training fresh and clear.
FOOD PACKAGE VALID FOR THIS TRAINING
5 Days-Breakfast-and-Lunch-Package $60 USD (incl. 10% tax and 5% service charge)
All you need to do is choose the option "Training + Meal Package" when you book online. Check out our trainings lunch menu here. The prices are based on one dish per meal every day of your training.
PLEASE NOTE: Additional drinks and snacks excluded. We wish to give you the daily option to choose what your tummy is craving. As all our meals are made fresh per order, please have a look at our menu and select your favoured dish in advance, preferably one day or a few hours before, e.g. mornings before your training day starts on our meal pre-order forms. You will find those at the cashier in the café.
ABOUT KEVIN
Kevin James has been holding space for the growing Bhakti and sacred music movement locally and internationally for over 2 decades. His universal approach to sacred music is a world fusion of devotional chanting mixed with his own compositions that he calls the 'Heartsongs Chanting Circles'.
Kevin's circles have struck a chord with the alternative and yoga movements globally in embracing all as one source, and his work appeals to a wide variety of different beliefs. He manages to weave together popular mantras without religious dogma that go straight to the Heart.