100 Hour Teacher Training >>Expression<< with Samāveśa Yoga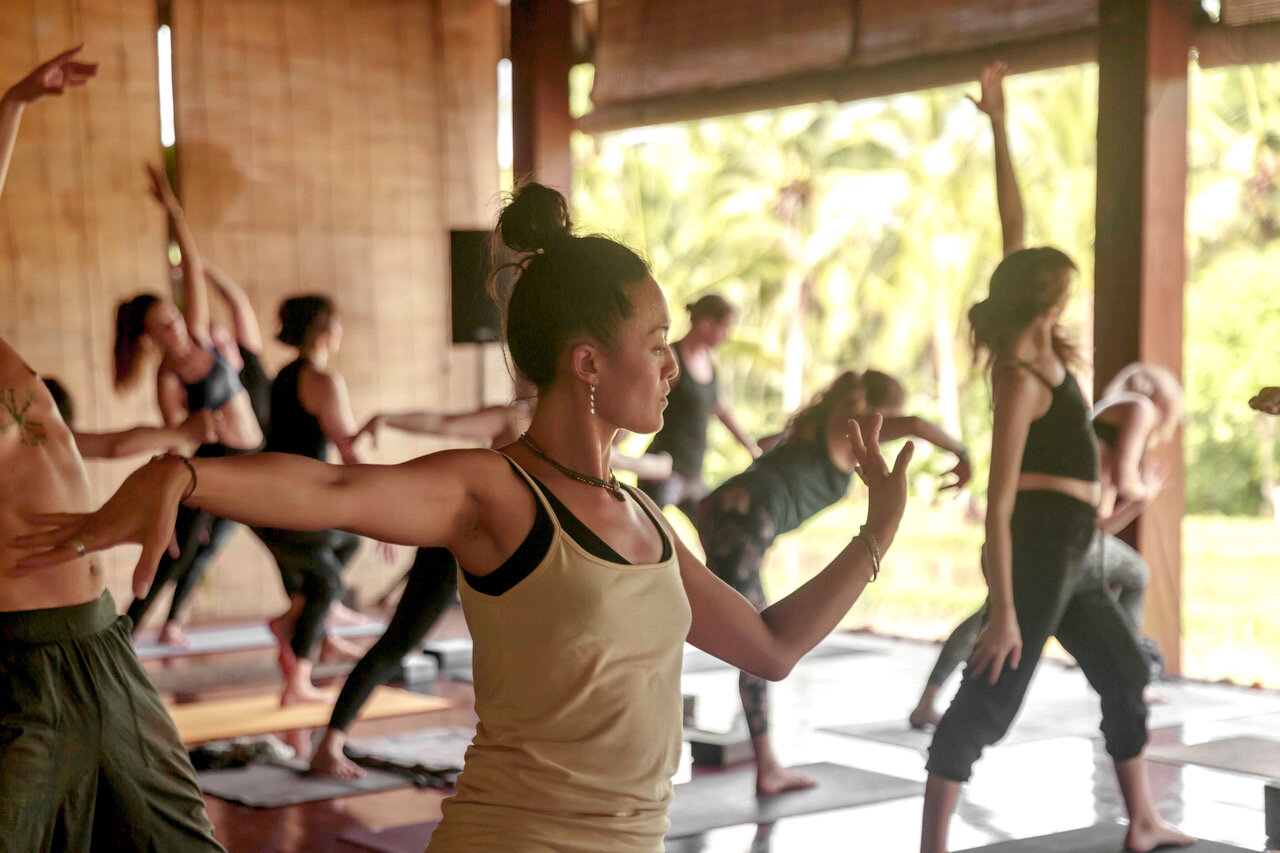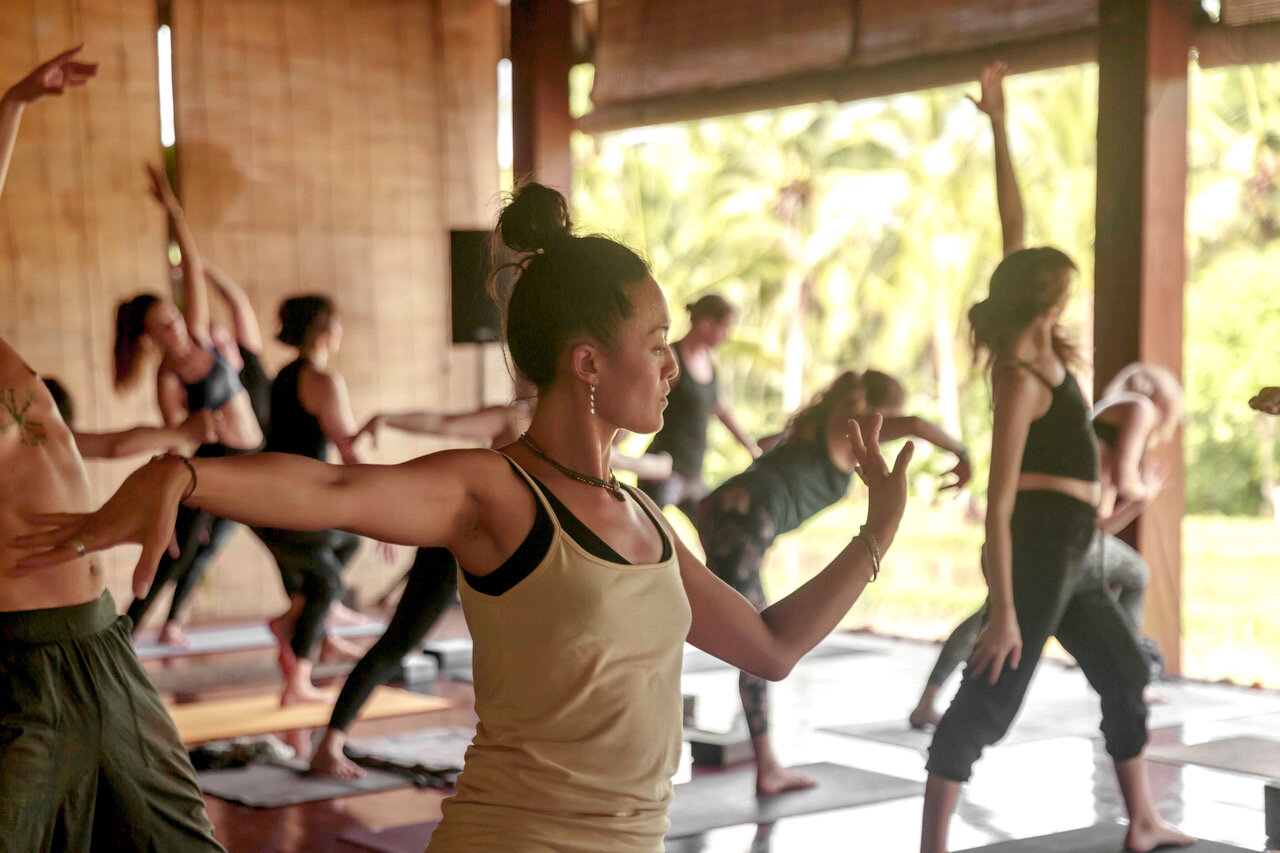 100 Hour Teacher Training >>Expression<< with Samāveśa Yoga
100 HOUR TEACHER TRAINING >>EXPRESSION<<
WITH SAMĀVEŚA YOGA
Samāveśa yoga immersions and trainings are 100-hr deepenings, set in the pulsating aliveness of Bali. Whether you choose to step in to the art of teaching or wish to unravel in the spiral of awakening, we offer a safe space for your ongoing process. This is a potent steep inside. Ancient philosophy and practice that calls to students, teachers, and curious explorers on the path of realization. Led by Radiantly Alive teacher Collette Davis, soul-stirrer Rikke Brodin, Tantrik scholar Christopher Wallis and international anatomy teacher, Rachel Ellery, this 100hr module is part of the Samāveśa 200hr YTT. For more information email immerse@samavesa.yoga or visit www.samavesa.yoga
A POTENT BREW
No one else can offer what you have to offer. No one tastes life like you do and how you express the high, middle and low notes is central to how you teach. Powerful yoga classes facilitate a group mind of moving meditations, through the embodiment and transmission of ancient wisdom and your own authentic voice.
Inspired by the yoga schools of Anusara™ and Embodied Flow™ this 100-hr module explores the art of teaching, the curation of the classroom, and the skillful holding of a safe space.
A strong emphasis is placed on theme, philosophy, language, voice, embodiment, sequencing, ritual, and transmission with additional focus on anatomy and alignment.
This training is for students who have completed the Samāveśa 100-hr Embodiment Immersion, or teachers who already have a 200-hr certificate and are looking to deepen their knowledge, invigorate their classes, and refine their craft.
DAILY PRACTICE AND STUDY
Each day will include a consistent structure of sādhana, modules, and labs. Mornings begin with a 3.5-hour practice of mantra, kriya, prānāyāma, meditation, Tantrik subtle body practices, journaling, inquiry, āsana, and embodiment. We will then have brunch and the opportunity to share before diving into 3 hour study modules to cover the curriculum of philosophy, psychology, teaching methodology, anatomy, lifestyle, business and ethics. Afternoon labs are dedicated to teaching practice, embodiment exercises, and alignment breakdown.
SĀDHANA is the bedrock of spiritual growth and facilitates discipline. The crucible of awakening, it acts as a laboratory for exploring the Self through meditation, mantra, mudra, prānāyāma, kriya, visualization, contemplation and inquiry.
MODULES are three-hour study periods where we go deep into philosophy, anatomy, alignment, theming, sequencing, voice, language, curation, embodiment, movement and lifestyle. Hareesh Wallis will lead the philosophy modules on Expression, Rachel Ellery will lead anatomy while Collette Davis and Rikke Brodin will co-facilitate sādhana, teaching methodology and practice.
LABS are vital aspects of the Expression module. Whether the focus is alignment, embodiment, language, voice, transmission, sequencing or theming, the labs are where you will develop skill in action through regular teaching practice and mentoring.
DAILY SCHEDULE
2020 | March 17 - 31
7.00-8.15am Sādhana
8.30-10.30am Āsana
10.30-12.00pm Brunch
12.00-12.30pm Circle
12.30-3.30pm Modules
3.30-4.30pm Break
4.30-7 pm Labs
PRICE
You can pay deposit of $500 USD to save your spot. Pay the rest latest 1-month prior to the start of the training
Early Bird £1600 | $2000 USD
Full Price £1800 | $2250 USD
EARLY BIRD ENDS OCTOBER 30TH 2019
CERTIFICATION
Upon successful completion of each module of the training, you will receive a 100-hour continuing education certificate as all training modules are registered with Yoga Alliance.
AN INTERNATIONALLY RECOGNISED FACULTY
This training will be led by Radiantly Alive teacher Collette Davis, soul-stirrer Rikke Brodin, Tantrik scholar Christopher Wallis and international anatomy teacher, Rachel Ellery.
ABOUT COLLETTE
A devoted student and practitioner, Collette has trained with Tara Judelle, Sianna Sherman, Leila Sadeghee, Ana Forrest, Elena Brower, Dr Scott Lyons and Hareesh Wallis. Her classes are an ongoing inquiry into embodied liberation, influenced by classical non-dual Tantrik philosophy, Anusara™ and Embodied Flow™ yoga.
Curating powerful containers and safe spaces, she facilitates immersive experiences that students can soften and surrender into, before pouring soulful, thematic sequences into their systems and cells. Fluid and free, Collette holds the space for intuitive moving meditations where students are guided by the creative life force that courses through their being.
ABOUT RIKKE
Rikke is a soul-stirrer and truth speaker with a deep commitment to awaken curiosity and sensitivity for engaging with every layer of this profoundly mysterious body-mind matrix, and in this way fall in love with the full spectrum of embodied aliveness.
She has, through her own personal journey, become very skilled in facilitating a space for practising intimacy with reality, for returning home in our wholeness and for amplifying our freedom and creative field through breath, awareness, movement, and subtle-body practices.
Rikke is in continuous deep study with meditation teacher Adyashanti, Śaiva Tantra scholar/practitioner Hareesh Wallis, Tara Judelle and her school of Embodied Flow, Sianna Sherman and Leila Sadeghee.
ABOUT HAREESH
Christopher Wallis, also known as Hareesh, is a scholar with thirty years of experience, having been initiated into the practice of yogic meditation at sixteen, and fifteen years of formal education. His degrees include a B.A. in Religion and Classics from the University of Rochester, an M.A. in Sanskrit from U.C. Berkeley, an M.Phil. in Classical Indian Religions from Oxford, and a Ph.D. in Sanskrit from U.C. Berkeley.
Additionally, he received traditional education at yoga āshrams in upstate New York and India, training in meditation, mantra-science, kīrtan, karma-yoga, and pedagogy.
He currently teaches meditation, yoga darśana (practical philosophy), Tantrik philosophy, Sanskrit, mantra-science, and offers spiritual counseling. He is the author of Tantra Illuminated: The Philosophy, History, and Practice of a Timeless Tradition and The Recognition Sutras: Illuminating a 1,000-year-old Spiritual Masterpiece.
ABOUT RACHEL
Rachel is an international anatomy and movement teacher who specializes in teaching yoga students and teachers awareness of the structure and function of how their bodies move.
With over 24 years of hands on experience and 15 years of teaching, she combines her extensive knowledge of osteopathy, sports therapy, Pilates, Thai bodywork, and yoga into unique interactive anatomy and movement classes with the help of Charlie, her skeleton.
Trained at the British School of Osteopathy, Rachel teaches alongside internationally renowned yogis in their teacher trainings, including: Les Leventhal, Tara Judelle, Kaya Peters, Tanya Kaps, Cat Kabira, Emily Kuser, Denise Payne, Bex Tyrer, School of Sacred Arts, Tina Nance and Beate McLatchie.
NOURISHING MEAL PACKAGES FROM THE RA CAFÉ
Having a meal package as you train is an easy way to nourish yourself with our home-style, comforting, vegan and vegetarian foodand great to save time and energy. With your meals ready to greet you on our break, it's a nice addition to focus on resting and rejuvenating, to go back into your training fresh and clear.
FOOD PACKAGE VALID FOR THIS TRAINING
14 Days-Snack-and-Lunch-Package $124 USD (incl. 10% tax and 5% service charge)
All you need to do is choose the option "Training + Meal Package" when you book online. Check out our trainings lunch menu here. The prices are based on one dish per meal every day of your training.
PLEASE NOTE: Additional drinks and snacks excluded. We wish to give you the daily option to choose what your tummy is craving. As all our meals are made fresh per order, please have a look at our menu and select your favoured dish in advance, preferably one day or a few hours before, e.g. mornings before your training day starts on our meal pre-order forms. You will find those at the cashier in the café.