In this Issue:
• Article: Zaida as Role Model for Health



•
Our

Yoga Studio

Schedule
• Upcoming Workshops & Events at our Yoga Studio
• Radiantly Alive in the News!
•
From the Queen of Smoothies: Green Smoothies Monster, Thai Soup
• Green Smoothies for Body Care: Aloe Facial Cleanser
---
Become a Yoga
Teacher
- Yoga Teacher Training Level II,
this July 20

more info below!
---
Get Raw
- Raw Chef Training,
Oct 11 - Nov 11

more info below!
---
Opening Phase
Special
---
Yoga Teacher
Training
Level I, 300+ hours
October 14 - November 11
July 20 - August 3
Kids, Prenatal, Therapeutic Yoga
November 16-November 30
Sequencing Vinyasa

for more information, click here
---
Raw
Chef Training
October 11 - November 11
---
From the Queen of Smoothies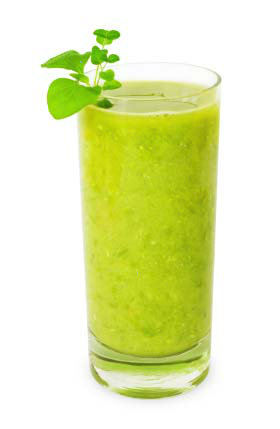 Recipe from the Queen of smoothies, Victoria Boutenko.
Green Smoothie Monster:
4 leaves kale, stems removed
4 leaves chard, stems removed
½ bunch fresh parsley
1 leaf aloe vera
½ bunch dandelion greens
3 pears
1 banana
3 cups water
Yields 2 quarts

Thai Soup:
2 cucumbers
1 large avocado
1 lime, juiced
3 cloves garlic
6 leaves curly kale, stems removed
½ teaspoon dried turmeric powder
½ inch fresh ginger root
2 cups water
Yields 2 quarts

Green Smoothies for
Body Care

Aloe Facial Cleanser:
½ cucumber
½ avocado
1 large leaf aloe vera, with skin
Apply on skin as a sunscreen, or after sunburn, or to improve overall skin health. Keep on skin 10–30 minutes, then rinse off.
Yields 1 cup

for more recipes click here
---
"Keeping your body healthy is an expression of gratitude to the whole cosmos, the trees, the clouds, everything."

― Thich Nhat Hanh (1926- )

"Let food be thy medicine, let medicine be thy food."

― Hippocrates of Cos (ca. 460 BC - ca. 370 BC)


Zaida as Role Model for Health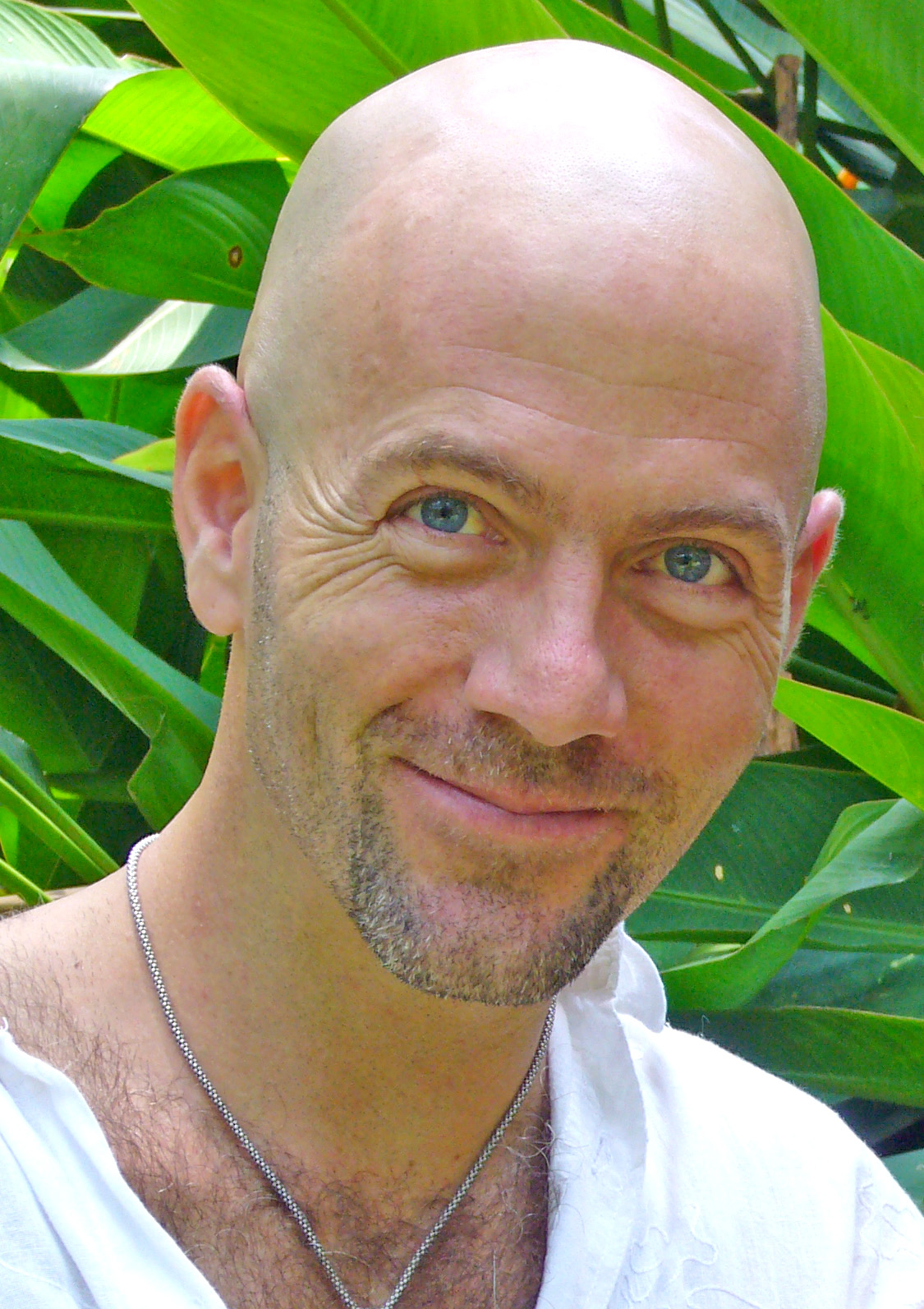 I am blessed by Zaida, my five-year-old daughter. I gratefully walk beside her and assist her as she skips along and sometimes stumbles, on her life's learning path. One of my early goals as a parent was to teach Zaida how to create and maintain physical health, to free her for a lifetime of maximum health and happiness. In our five years together she has rarely sniffled or sneezed. With tons of energy, she's vibrant, healthy and never misses school.

I also grew up with health. Bad health.

I learned at an early age to overeat and that exercise was something that I should do (though probably wouldn't) and that it wasn't fun. My role models hadn't learned how to create physical health, and so, neither did I. Not until many years later. We all know that health is more than the absence of disease… it's a feeling of being energized, alive and excited about life. It's our birthright, and in now having lived with it and without it, I am convinced that it's an absolute key to life.

There are three ways we create and maintain health in our bodies:

1. What we put in our bodies, which means what we eat as well as what we put on our skin.
2. How we move our bodies.
3. And how we think about our bodies.

When we commit to seeing ourselves as physically vibrant and energized, the positive energy of that commitment leads us to prioritizing what we put in our bodies and how we move our bodies.

Zaida takes to health like a fish to water. It's a joy to see how naturally, she loves healthy foods. From a baby she took to things like spirulina, bee pollen, fresh fruits and veggies. She has simply never known what is a burger or French fries. As cell biologists like Bruce Lipton illustrate, it's the environment (or our perception of the environment) that has most to do with a cell's health.

Let us all follow Zaida's lead in creating our commitment to radical health, investing in the information and environment that will foster it, and then-- all reap the great benefits that come from that commitment. Even better: Let us all inspire those around us through our modeling of Herculean health.
In love and service,
Daniel
---
Radiantly Alive Yoga Teacher Trainings

Level 2, Prenatal, Kids and Therapeutic Yoga
500 hour Module
July 20 - August 3, 2012

Are you ready to deepen your own practice? Do you want to confidently make modifications for students who are recovering from injury? Do you want to know how to help expectant mothers safely experience the bliss of vinyasa? Are you ready to add more fun and smiles to your practice and your teaching?

During the two intensive weeks, you will explore therapeutic yoga, including assessment, modifications, adjustments and how to adapt your teaching for students with injuries, issues or specific goals. You'll learn the core principles of prenatal yoga through a vinyasic perspective. You'll also learn how kids yoga can bring play and laughter to your teaching when working with children and adults alike.

Join Daniel Aaron and guest faculty, Jennifer Wolfe, Chris Kummer and Lei Sadakari.

Level 1, 300+ hours
October 14 - November 11, 2012

While it's clear that our current teacher training - with 23 different countries represented - will be our best one yet, we're already looking forward to October, where in addition some of our regular and beloved guest faculty (Edward Clark, Chris Kummer, Joshua Michael, Simon Borg Olivier), we are psyched to be hosting Kino McGregor and Philip Urso for their first time with us.








for more information, click here
---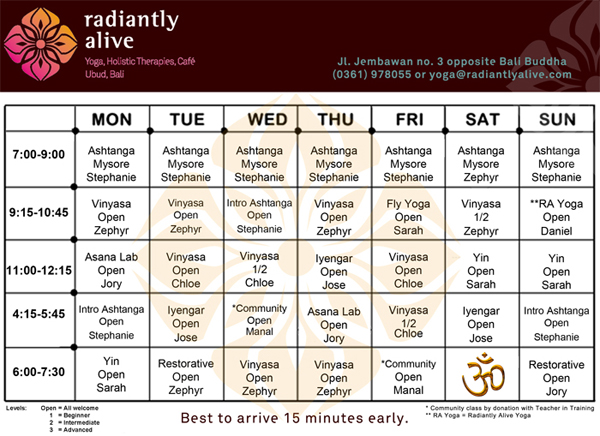 For our teachers' bios & class descriptions, please click here.

At Radiantly Alive Yoga Studio we educate, inspire and uplift in our brand new, eco-hip facility, custom-designed to help you fulfill your yogic essence.

With two gorgeous, dedicated shalas (yoga rooms), you'll experience top quality instruction in a variety of styles: Radiantly Alive Yoga, Vinyasa, Ashtanga, Restorative, Dance, Iyengar, Yin, Anusara and Acro Yoga.

In our café enjoy healthy foods, premium teas and our legendary Radiantly Alive raw chocolate. Replenish and reenergize your body while communing with like-minded souls from around the world.

Our holistic therapies offer you powerful assistance to cleanse and heal: colon hydrotherapy, cranial sacral, deep tissue and acupuncture.

We have with us an international crew of teachers from all over the world. At the moment we offer 30+ classes, but just wait until our second shala opens in June! More classes and times will soon be added. Stay tuned!
---
Upcoming Workshops & Events at our Yoga Studio
Who: Tom Lang
What: The Art of Public Speaking
and Clear Communication
When: June 5, 2012 – Tuesday
6:00pm-7:30pm

The Guiding Principles:

- Public Speaking Fundamentals
- Setting a Tone and Establishing a Theme
- Achieving Consistent Confidnece As a Teacher/Speaker
- Building Trust Quickly and Eliminating Burnout.

Who: Joshua Michael
What: Garland of Timeless Chants
from Yoga's Great Traditions
When: June 6, 2012 – Wednesday
4:00pm-6:00pm



Mantra ~ Come Explore the Essence of Sacred Sound. Take your practice to the next depth by infusing the ancient language from the Upanisads, Bhagavad Gita, & Ramayana into the tapesty your sadhana.

Who: Govinda Kai
What: Special Workshop with Govinda Kai
When: June 10, 2012 – Sunday
8:00am-11:30am

Diving into the Ocean of Yoga. A gathering of seekers to practice, chant, and discuss how to maximize the potential of this blessed practice into your life. One of only 35-40 certified Ashtanga Vinyasa Yoga teachers in the world and taught directly by the late Sri K Pattabhi Jois, this workshop is not to be missed.


Who: Jennifer (Wolfe) More
What: Prenatal Vinyasa Yoga Teacher Training
When: August 4 - August 8, 2012

Expand your career options while guiding pregnant women through the journey of pregnancy, and preparing them, physically, for the powerful transition of childbirth. This Prenatal training is unique in that Jennifer's vast childbirth experience gives her the ability to teach much more than just prenatal yoga.

This comprehensive Prenatal Vinyasa Yoga Teacher Training will include Asana and flow, an introduction to childbirth education, pregnancy anatomy, partner yoga and postnatal yoga.
---
Radiantly Alive in News