NEW! Join Radiantly Alive daily yoga classes at Taksu Spa in Ubud! Visit our site for details.
IN THIS ISSUE
June 2011 Level II
Raw Chef Apprenticeship Program with Pure Joy Living Academy
May/June Level I Training
Spirituality in the Modern World
Upcoming Events
Raw Recipe: Sea Vegetable, Radish, Buckwheat Crunch Salad with Creamy Wasabi Dressing
New at Taksu Spa

---
UPCOMING EVENTS
Raw Chef Training with Pure Joy Culinary Academy
May 4 - June 5, 2011
Ubud, Bali

Vibrant Living Yoga Level I
Teacher Training
May 8 - June 5, 2011
Ubud, Bali
Vibrant Living Yoga Level II
Module
June 10 - 24, 2011
Ubud, Bali

Vibrant Living Yoga Workshop
July 30-31, 2011
Perth, Australia

Vibrant Living Yoga Workshop
August 5-7, 2011
Byron Bay, Australia
---
Sea Vegetable and Radish Noodle Salad with Creamy Wasabi Dressing and Buckwheat Crunch
The illustrious Sayuri Tanaka will be gifting us with her incredible organic, raw food culinary creations during the upcoming Vibrant Living Yoga Teacher Trainings. Here's one of her specialties.
(by Sayuri)
Buckwheat crunch
2 cups buckwheat, soaked (doubles in volume)
1/2 cup fresh dates, pitted and chopped
1 tsp sea salt

Wash buckwheat very well and drain. In a big bowl, combine all well, spread evenly over dehydrator screen. Dehydrate 48 hours or until crisp.

Save 1/2 cup and 2 tbsp for salad before its disappears! It's really nice for breakfast granola, or snack, or topping for ice cream and pudding as well.

Creamy wasabi dressing
Yields 1 cup (serves 4~6)

1/2 cup cashew nut, soaked
1 1/2 tbsp wasabi powder
1/3 cup water (or more to your preferable consistency)
1 1/2 tbsp apple cider vinegar
1 1/2 tbsp honey
2 tbsp extra virgin olive oil
1 tsp soy sauce or tamari
1/2 tsp sea salt

Mix all in a high power blender.

Assembling the Salad
(serves 4-6)
2 cup daikon radish, spiralized into noodle or julienned
3~4 cups any mixture of spinach, romaine lettuce and mizuna, cut into small pieces
1 handful each dried Wakame and Arame, soaked for 10 minutes then drained
1 cucumber, julienned
1/2 cup cherry tomato, halved
1/4 cup thinly sliced scallions
1/2 cup buckwheat crunch
1 cup wasabi dressing

Garnish
1/2 sheet Nori, cut into thin strips
2 tbsp black/white sesame seed
2 tbsp buckwheat crunch

Mix all and serve immediately with garnish.

Alternatively prepare the salad with garnish, and serve the dressing separately.
---
New at Taksu Spa in Ubud: Infrared Sauna
Infrared sauna treatments have been well received as excellent ways to detox, purify and increase health and vitality.
Prices for a 40 minute session begin at 120.000 IDR. Packages are available for better deals for multiple visits. Visit their site or the spa for more information.
Also, be sure to stop by the restaurant at Taksu, which now offers rejuvenating and health-promoting wheatgrass shots.
Radiantly Alive April 2011 Newsletter
A few days ago a friend asked me: "What does it mean to be spiritual in our modern world?"

This is indeed a big question, and even a quick consideration of what many consider to be a "spiritual" practice of yoga was pretty insightful.

Today, for example, I hung upside down on my yoga swing, complete with springs, swivels, carabiners, a pull-up bar, and three different sets of foot and hand-holds. Yesterday while teaching a yoga class, I used my computer and iPod to broadcast a playlist of songs from many genres and eras (blues, rock, electronic, funk) throughout the room. Parallel with the explosion of yoga prop companies, there's a small part of the yoga community that's eschewing the use of mats, feeling they're cumbersome, extraneous to yoga's purpose, and more of a status symbol than a helpful tool.

Some years ago, Shri Bhagwan Rajneesh said that the pace of life 2000 years ago was so different than it is today, that one might actually have success with meditating to reach a spiritual state. Today, though, the pace of our lives is fast. We have so much stimulation in the modern world from the Internet, technology, education, global awareness, and multimedia, that we need another approach. Continue reading below...
---
Level II June 2011: Integrating Philosophy and Asana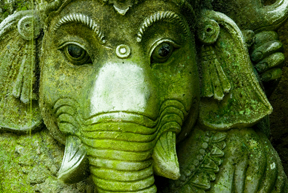 Understanding and integrating the philosophy behind our yoga practice takes these already powerful techniques beyond 'just the physical', into so much more.

Our upcoming Level II 500 hour modules - two week immersions into the physical and philosophical aspects of yoga, directed by today's masters of the yoga world, focuses on how to integrate philosophy and asana. In our 2 week intensive, together we explore how we infuse the yoga class and our personal practice with traditional and contemporary yoga philosophy, how we present the teachings in an engaging way, and how to create an experience well beyond the physical practice. Special focus will be placed on the Bhagavad Gita.

This June, join Edward Clark (Tripsichore), Nicki Doane (Ashtanga), Joshua Michaell (Sanskrit and Yoga Philosophy) and Daniel Aaron on an intensive designed for the practicioner or teacher seeking to take their yoga experience, and others', to a deeper level.

NOTE: Many students' teaching and yoga experience move to incredible levels by attending both Level I and Level II together (see our Videos page to hear from students directly). Contact us if you're interested.

To see video clips of student testimonials and learn more about the Level II Teacher Training experience, see our Podcast and Video page. More details, including registration information, are on our website. Contact Heather at ytt@radiantlyalive.com or +62 821 44 8983 40 (UTC/GMT +8 hrs) to apply for a space.

---
Radiantly Alive Chef Training featuring Pure Joy Culinary Academy with Elaina Love! May 4 - June 5
Calling all raw food enthuasiasts! Spaces still available, and filling quickly for our upcoming Raw Chef Certification led by Pure Joy Culinary Academy's brilliant chef and trainer Elaina Love.


David Wolfe, health, nutrition and eco expert, author, raw food pioneer, friend, and long time collaborator with Elaina, was recently in Bali. See what David has to say about our Raw Chef Program and his experience of Elaina Love's incredible cheffing and teaching skills by checking out our latest video clip on Youtube here.




Elaina's been creating an incredible curriculum: classes, techniques, workshops, field trips and more. The scope and depth of what the trainees will learn during these four weeks will empower them to teach and cater anywhere in the world, with a unique combination of hands-on training with one of the best chefs in the world and on the job training catering for a large group of yogis.

Learning the ins and outs of making delicious, gourmet, beautiful dishes that include breakfasts, breads, pastries, desserts, ethnic entrees, wraps, salad dressings, dips, dehydrates, chocolates, elixirs, beverages, soups, exotic fruits and ingredients, and so much more!

For more information and application details, visit our site or contact us at rawchef@radiantlyalive.com or +62 821 44 8983 40 (UTC/GMT +8 hrs).
---
Level I Vibrant Living Yoga Teacher Training, May 2011: Spaces Filling Quickly
Spaces are still available for our upcoming Level I teacher training. We're excited to have some incredible faculty returning - including Edward Clark (Tripsichore), Alanna Kaivalya (Jivamukti) and Chris Kummer (Yoga Anatomy)! New to us this year is Nicki Doane (Authorized Ashtanga) - plus other special guests are in the works.

To hear what David Wolfe had to say about the four week experience of yoga and raw food, check out the video here.

NOTE: Many students' teaching and yoga experience move to incredible levels by attending both Level I and Level II together (see our Videos page to hear from students directly). Contact us if you're interested.



To experience Vibrant Living Yoga classes or see video clips of student testimonials, visit our Podcast and Video page. More details, including registration information, are on our site. Contact Heather at ytt@radiantlyalive.com or +62 821 44 8983 40 (UTC/GMT +8 hrs) to apply for a space.

---
Raw Chef Apprenticeship Program 2011
Also new to us in October 2010 - the launch of our Raw Food Apprenticeship Program:
an opportunity for those interested in learning and training in raw food technique, preparation, catering and more to study with world renowned chefs in beautiful Bali.
Combining the best of many elements -
skilled senior chefs
, an enthusiastic and dynamic
educational staff
guiding the apprentices, plentiful and incredible
all-organic local vegetables, fruits and superfoods
(coconuts, cacao, cashews and more), the practical and
rewarding experience
of preparing food for yogis, the opportunity to participate in portions of our yoga training - and all set in the beauty of spiritual Bali - we now take the apprenticeship program to another level.
The
apprentices' education involve a mixture of practical and classroom experience, with a curriculum featuring raw food preparation, nutrition, kitchen technique, superfoods, cleansing/fasting, personalized nutrition, kitchen management, catering for retreats and more.

Dates for the 2011 trainings are May 8 - June 5 and Sept 25 - October 23. More information and application details, can be found on
our raw chef apprenticeship site
. Contact
Heather
to apply.
---
Spirituality in the Modern World (Continued)
(Continued from above): I love the era we live in; life is so rich with opportunity. This is the moment we've been preparing for, the culmination of everything that's come before. To paraphrase Dickens' words (which will always be true): It is the worst of times and it is the best of times. It all depends on how we see it and what we do.

Webster's Dictionary states that "spiritual" has to do with the spirit or the soul, as opposed to material things. Webster is a great source, but, we have to look within ourselves to find the deeper meanings of what spirituality is. And of course, we will all end up with different definitions of what spirituality means for us.

No matter what tradition we look to, though, every teacher and scripture says something about the importance of being present. No matter what creed or religion, no matter the era one lives in, spirit resides in the now. Today, being spiritual begins with accepting the world as it is.

The world is crazy, fast, polluted, always filled with wars, overpopulated...I could go on with the list of what people often complain about, yet the point is that all of these so-called "con's" are real parts of the world we live in. Acceptance, or "loving what is," being "spiritual" and present, means we must start from here.

While it may be true that yogis of 2000 years ago didn't have mats, and it's certainly true that this little town of Ubud, which is no longer a little town, was much different 20 years ago (much like many small towns all over the world), we'd be going against one of the first tenets of what it means to be spiritual if we say that it was better before; if we say that we have regressed. As tempting as it might be to reminisce, to revel in nostalgia—and there's certainly nothing wrong with enjoying our memories—our first and hugely important step into spirituality today is knowing, saying, and living the truth that things are unfolding just as they should.

Indeed, this is the best of times. In yoga terms the destination, what it means to be spiritual, is a state called Samadhi. It means that we know the truth of ourselves as our highest possibility.
---
Contact us
We hope our newsletter provides you with some inspiration or education – that it's useful. If you'd like to hear about something in particular, or have questions, we welcome your input info@radiantlyalive.com


---
Our mission is to sparkle more Radiance into the world. If you know someone who would like some of the good news, please share this newsletter with them. If you prefer to no longer receive our newsletter, simply reply with "thanks, no thanks" in the subject line.